Your Development for Greater Mastery at Work
All of us—no matter where we are in our careers, what size organization we're in, and regardless of whether we're at the top or the bottom of the hierarchy—are being shaped by the struggles of adult development. 
These struggles include:
Feeling unfulfilled in your work.
Feeling anxious about how you are being perceived by others.
Being overcome with doubt about "putting yourself out there."
Feeling torn between competing expectations.
Experiencing powerlessness around critical professional relationships.
Feeling frustrated because you don't have the impact you desire.
Yearning to find or pursue your vocational purpose.
How can you support and accelerate your own development?
As an Adaptive Learning Experience, this curriculum will change the structure of your thinking. You will increase the scope of what you can see, refine the quality of how you respond, and broaden what you can influence.
As Commanding Influence facilitates your development, you will respond to the challenges and opportunities around you with greater mastery.
You'll notice changes in how well you:
Skillfully manage key relationships.
Respond with more insight and adaptability to complex challenges.
Express who you really are with confidence.
See more options and know how to take decisive action.
Create nimble solutions that move you and your organization forward.
Have more freedom in your professional life.
Differentiate yourself with authority when it matters most.
Command more influence and make a more significant impact.
"McNamara provides a practical roadmap that both inspires and instructs on how to liberate our true greatness."
Rand Stagen
Founder, Stagen Leadership Academy
"Rob's works have become an integral part of my business and my personal life."
John Austin Foster
Life Warrior Coaching
Profound wisdom, unique insights and gentle guidance.
Michael Schwartz
Professor, Georgia Regents University
McNamara takes the reader on a journey of transformative adult development that's compelling and insightful. This is brilliant, leading edge work that is a must-read for anyone interested in growth, leadership, or simply engaging consciously for greater fulfillment and a better world.
Jane Hustins
Fire Inside Leadership
Clear, lucid and powerful.
Ken Wilber
Author and President, Integral Institute
Masterful in his exposition of leading developmental psychologists Robert Kegan and Susanne Cook-Greuter's work.
David McCallum
Executive Assistant to the President, Mission Integration and Development Le Moyne College
I would encourage coaches to take a listen, to lay this next to their current interpretation of coaching development and listen for the clues for their own opportunities to add perspective.
Vic Okerlund
Leadership Development Coach
Knowledge of adult development is a game changer for me in many therapy and coaching sessions. I highly recommend this course to get a practical understanding of the underlying issues most adults struggle with.
Werner Pitzal
Psychotherapist, Business Coach
Rob McNamara has a beautiful expression for a form of leadership that is conscientious and transformative. He teaches that our role as leaders is to declare what must be better and to fully use our influence to make it so. Further, he provides solid practices to support this goal.
Jean Ogilvie
Coach and OD Consultant
Rob McNamara presents the material of adult development so very clearly and highlights why it is so important for us citizens of this world to continue to develop. Without deep insights into this process it is difficult to navigate. Rob is a great teacher! I highly recommend this course.
Annette McCall
Family Physician
Over 6 hours of audio instruction and coaching with adult development expert and leadership coach Rob McNamara.
Commanding Influence is carefully divided into digestible 20 – 30 minute segments. Each segment unpacks a key feature of the developmental process and shows you what these transitions look like in your own day-to-day life. You'll get clear tactical tools you can take into your life and begin applying immediately.
Course Outline (click to expand)
Hear a preview of Elegant Leadership: Commanding Influence
Rob McNamara is a Teaching Fellow at Harvard University, a Leadership Coach and author of The Elegant Self. He is a leading expert on adult development and human performance, his coaching services help individuals increase their scope of influence where it matters most personally and professionally.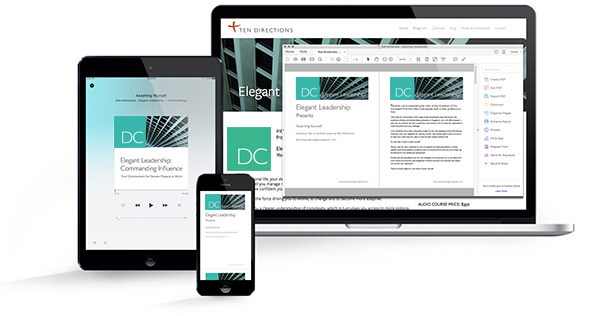 DIGITAL DOWNLOAD Includes:
Immediate access to download the entire course and begin listening right away
19 audio lessons — more than 6 hours of targeted instruction, coaching and practices
Comprehensive Downloadable Transcripts
Supplemental Practices
Bonus recording—A 90-minute Live Q&A with Rob McNamara
Audio program price: $299
*NEW* PHYSICAL EDITION + DOWNLOADABLE COURSE Includes:
Audio CD
Full-color Manuscript
& Practice Workbook
PLUS—download link to the entire course online:
Immediate access to download the entire course and begin listening right away
19 audio lessons — more than 6 hours of targeted instruction, coaching and practices
Comprehensive Downloadable Transcripts
Supplemental Practices
Bonus recording—A 90-minute Live Q&A with Rob McNamara
Physical + Digital formats combined: $350