With Diane Musho Hamilton
Who's Up? Who's Down?
with Diane Musho Hamilton
Navigating conversations about diversity, fairness, and inclusion in the workplace.
Create non-toxic cultures that are free
to include while still moving ahead
As culture evolves and changes, most workplaces are striving to create environments where teams perform optimally, where relationships are authentic and trusting, and policies are fair, regardless of role, race, or gender. The impulse for balance and equity in the workplace is a healthy development for all working environments.


But sometimes the intention to include backfires: change becomes pressuring and the people who advocate for it become oppressive; freedom gets mired down in identity politics, and the effort towards better relationships results in alienation.

These dynamics, while challenging, can be skillfully transformed. But understanding how to work with them takes some training.
What Will You Gain?
Gain more confidence — so you don't have to shy away when difficult topics arise. When inclusion back-fires and becomes oppressive, learn how to navigate and name the shadow dynamics without adding overbearing value judgments.
Leave with an attitude of greater curiosity and even lightness about these topics.
Find ways to create cultures that are inclusive, tolerant—and not stifling or oppressive.
Maximize people's willingness to engage and learn (as opposed to being made to feel bad and withdrawing as a result).
Recognize when conversations go off track, feel equipped to find ways to pull them back.
Gain a better capacity to listen to what's actually happening.
Create environments with less anxiety and more inspiration.
Class Begins September 25th
Course Price: $750 USD

Groups of 2 or more registering together receive a discount! Use code WUWDGroup at registration and include group member names in your order notes.
Week 1
Healthy Inclusion: A hallmark of organizational development
Session 1
Tuesday, Sept 25th 10:00 am – 11:15 am MDT
Session 2
Friday, Sept 28th 10:00 am – 11:15 am MDT
Week 2
Shadow of Inclusion Dynamics: Avoiding the back eddy of inclusion dogma
Session 3
Tuesday, October 9th 10:00 am – 11:15 am MDT
Session 4
Friday, October 12th 10:00 am – 11:15 am MDT
Week 3
Free to Include While Still Moving Ahead
Session 5
Tuesday, October 23rd 10:00 am – 11:15 am MDT
Session 6
Friday, October 26th 10:00 am – 11:15 am MDT
Who is this Course For?
This course is designed for CEO's, HR Executives, CDE Leaders, Diversity and Inclusion Managers, Consultants, Facilitators, and Managers who are working in cultures and businesses struggling with how to be inclusive in a positive way. Or, any person who simply has the desire to help address these dynamics in your community and place of work.
What Topics Will Be Covered?
Why inclusion is a healthy developmental step for most organizations.
How efforts at inclusion can backfire, becoming oppressive and marginalizing direct feedback, competition, challenge and directionality.
How to navigate hot topics (like race, gender).
How to see and better understand these dynamics in cultures that are struggling to be inclusive.
How to better understand the complex power dynamics in these cultures.
Learn some ways we can get out of the double-bind created by the "unhealthily inclusive" culture.
How is the Course Designed?
Each class will include a balanced mix of the following elements:
Teaching – Drawing on her years as a mediator and facilitator leading discussions related to inclusion, equity, race and/or gender relations, Diane will introduce key distinctions, concepts and observations to frame the topic. Her teaching will focus on the importance of creating an environment high on inspiration and low on resistance.
Modeling and experiential learning — Diane will encourage questions and discussions from participants that draw out specific and concrete examples of challenges and offer options for how to work with them. Classes may include a mix of demonstration and small group engagement.
Questions — There will be emphasis on participants' individual experiences and challenges in having these conversations, as well as practice and skill building.
Practice and Application —Each week will include a homework assignment that will invite participants to pay more attention to their daily experiences and their opportunities to try on new skills.
The course schedule has been designed for flexibility and engagement. With two 75-min live sessions per week, the class is able to cover more material and provide more time for Q&A with the instructor. You'll get the benefit of 2.5 hours of live training in one week without needing to fit a 2.5 hour block into your calendar. All classes will be recorded and immediately posted in both audio and video formats. Because a week with no live classes follows after each week of live classes, you'll have time to apply the concepts and come back with real challenges to discuss. You'll also have space to catch up if you weren't able to join each of the live classes the week before.
Earn Human Resources Continuing Education Credits
This course has been approved by both the HR Certification Institute (HRCI) and the Society for Human Resource Management (SHRM) for continuing education credits. You may receive up to 9 credits with HRCI and 10 credits with SHRM.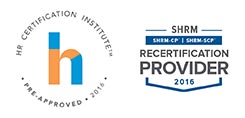 Dynamic Diversity Conversations.
More Curiosity, Less Judgement.
Create cultures where support and challenge can thrive together.
In organizational life today, the pressure to create environments that are inclusive, psychologically safe, attractive and exciting places to work has never been higher.

Our moral commitments may be in the right place, yet in many work places, our skills for navigating the issues are struggling to keep up.

How do we create environments where learning, curiosity and inspiration outweigh fear, paralysis, and overbearing value judgements?

Who's Up, Who's Down is a thoughtful, sophisticated and nuanced program for getting beyond positions and into the subtlety of navigating diversity and inclusion commitments and conversations in the workplace.
"Diversity and independence are important because the best collective decisions are the product of disagreement and contest, not consensus or compromise."
~ James Surowiecki
Diane Musho Hamilton is a uniquely gifted, playful, and awake group facilitator, consultant and trainer. She is well known as an innovator in facilitating group dialogues, especially conversations about culture, religion, race and gender relations. She was the first Director of the Office of Alternative Dispute Resolution for the Utah Judiciary, where she established mediation programs throughout the court system. She is the recipient of several prestigious awards for her work in this area, including the Peter W. Billings Award and the UCCR Peacekeeper Award.
Diane is a lineage holder in the Soto Zen tradition, and has studied and practiced Buddhadharma for over 25 years, beginning at Naropa Institute in 1984 with the teachings of Choygam Trungpa Rinpoche. She was ordained as a Zen priest in 2003 and received dharma transmission in 2006.
Diane is the co-founder and lead trainer of the Integral Facilitator Programs, through which she has trained over 500 leaders across 6 continents. She is the author of Everything is Workable: A zen approach to conflict resolution and The Zen of You and Me: A guide to getting along with just about anyone, published by Shambhala.
"Diane's teachings on facilitation, diversity and power have had an immeasurable impact on my ability to productively engage the conflict born from diversity dynamics. Many leaders, teams and companies I work with are discussing "belonging" in the work place. They seem to think belonging is a harmonious end-state, rich in diversity and marked by an absence of conflict or tension. Through the mindsets and skills Diane teaches, I have come to appreciate that real belonging includes tension and the conflict of our differences to grow deeply bonded, resilient, creative, and high-performing individuals, teams, and organizations. If you are ready to take your work to the next level, to let go of your known and formulaic ways of working with groups, and to jump into the messy and creative force of conflict, power dynamics, and diversity — then I can't recommend this program highly enough."
There are so many people doing transformation work. This is the first space I've seen where it actually is transforming— we're changing the form into something more evolved, and better, and fundamentally more life affirming. With groups I'm working with, I'm learning how to actually take what's in the space, and help them untangle it so they can change how they relate to each other. They become more free, more attuned—more free to confront, have conflict, and test each other out.
I was impressed by the multiple and meta levels at which you operate—seeing and experiencing how the power of masterful facilitation and holding multiple perspectives in such a skillful and pragmatic way can move groups and individuals to a place of greater humanity, love and compassion and greater self-understanding. Thank you. Truly.
Diane makes the unseen seen. Every time I work with Diane I am improved. It's like going for a personal renovation—I look and sound better coming out than when I went in!
Working with Diane Hamilton has grown my awareness of the subtlety at work at any relationship. I've learned to facilitate a wider range of participation and connection, I have a new understanding of my influence in every conversation and how to to make it count, and I have grown my capacity to be a YES to what comes.
Studying with Diane Musho Hamilton has changed my perspective on how I relate to groups and how I communicate with them. Be it in a Board Room setting, or in a one-on-one conversation, I feel that I see more clearly what's happening, I have access to more information, and above all, I am more present in the immediacy of what's going on. I highly recommend this to any Change Leaders/Consultants, facilitators, coaches, and anyone who is in the business of helping others.
Diane's broad knowledge, quick thinking, and profound way of speaking and conveying her thoughts are unique and amazingly effective!
Diane's mastery in relating and communicating, plus her skill in helping others "see" was exactly what I was searching for. Training with her has catapulted me to another level of skill.
Diane has opened up a mind blowing number of choices and perspectives for better working with the the groups that I work with, and being able to serve and be present for what they need and want to shift.
Class Begins September 25th