Three skills-sharpening courses in one comprehensive online program
Amplify the power of your communication skills
There is no shortcut to becoming a powerful communicator.
But now, there is a very well-defined path.
Few effective communicators are born. We all know the charismatic "people-person" who seems to weave spells of devotion and intrigue among others. The confident communicator, who exhibits exactly the right mix of empathy, strength, understanding, and emotion. The fact is, people who inspire trust and create impact in their relationships learned the skills that got them there. Which is wonderful news for all of us—because anyone who puts in a little time and effort can improve the persuasive power of their communication.
Sharpen your skills. Expand your capabilities. Boost your confidence.
Whether you want to better inspire your team at work, improve the quality of your collaboration with others, or boost your leadership confidence, it all starts with a stable baseline of necessary communication skills. With that foundation in place, you'll be a more effective communicator immediately—and just as importantly, you'll have the ability and confidence to grow and develop your skills over time.
One Comprehensive Program.
Three In-Depth Courses.
Over 300 professionals have already taken part in these programs. By combining the three courses into one supercharged online program, we offer you a comprehensive—and simple—solution. And since you can navigate the entire pre-recorded online program at your own pace, it easily fits into your busy life and career.
In This Together
Communication wisdom for the world of work
Master the skills that create strong relationships and thriving collaborations, and enliven everyone around you. This training will help you develop the most significant attributes of wise, compassionate and effective communication: impact, empathy, confidence, perspective, insight, enjoyment, wisdom, and growth.
Freedom to Fight
Essential Skills for Transforming Conflict with Confidence
Conflict isn't an obstacle. It's an opportunity. All too often, a missed opportunity. This training will teach you to not just manage conflict, but how to access the intelligence and creativity within it. Along the way, you'll develop insight, choice, freedom, creativity, wisdom, efficacy, and confidence.
Willing to Feel
Essential Skills for Emotional Maturity
Powerful works of art, great leaders, and successful advertising all inspire us by evoking the power of emotion. This training will give you a more complete understanding of your own emotions, teach you how to encounter any emotion with willingness and wisdom, and how to utilize the intelligence within any emotion.
Enroll Today. Get Access to All 3 Courses.
Our three-course Communicating for Trust and Impact program is an online learning program that you work through at your own pace. It includes everything you need to supercharge your people-quotient. And for a limited time, the entire 3-course program is available for a very reduced rate.
BUNDLE RATE OF $960 USD
---
A COMPREHENSIVE BUNDLE OF
RECORDED CONTENT FROM THREE COMBINED COURSES
INCLUDES
---
TEACHING VIDEOS
PDF SUMMARIES
CUSTOM PRACTICES
DOWNLOADABLE VIDEO & AUDIO
Package Price $960 USD
Your program experience is intimate and self-directed
The heart of your three-course program is a series of online video lessons led by Diane Musho Hamilton. This is augmented with PDF lesson summaries, practices, and downloadable audio lessons. You'll receive:
34 Skill-Specific Video Lessons

25 Hours of Video Instruction

25 Unique Skill Building Practices

All downloadable audio + video teachings

Optional self-assessment quizzes.
You study at your own pace, when it's convenient for you. Here's a look inside your online classroom:
Each course contains topic lessons. Every topic lesson gives you a teaching video, plus additional resources to help you learn and practice.
Every lesson includes a practice, a written summary, downloadable audio files, and access to suggested supplemental reading.
The learning environment is easy to navigate. Watch videos, play back audios, read summaries, and track your progress right from one central course dashboard.
Gain These Skills.
Transform the way you lead.
Get more quickly to the heart of what's really going on.
Keep discussions energized, enjoyable, and on point.
Make conflicts a source of creativity and depth.
Create safe, energized spaces that accelerate growth and learning.
Professionals around the world praise these courses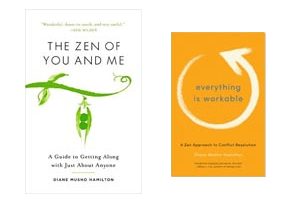 Your instructor, Award-winning Mediator
Diane Musho Hamilton
Diane is an exceptionally gifted mediator, master facilitator, author, trainer, and consultant. She is the recipient of several prestigious awards for her work in this area, including the Peter W. Billings Award from the Utah State Bar, the Utah Council on Conflict Resolution Peacekeeper Award, the Judicial Administration Award and Friend of the Court. Diane is also the 2016 recipient of the Brigham Young University Peacekeeper of the Year Award. She is the Co-Founder of the acclaimed Integral Facilitator Training Program. Diane is the author of Everything is Workable: A Zen Approach to Conflict Resolution, is a contributor to Harvard Business Review, and has just published her second book, The Zen of You and Me: A Guide to Getting Along with Just About Anyone.
Give yourself the gift of exceptional people skills
Be a Beacon of Trust, Impact and Understanding in Your World
Trustable people can create cultures that are free, fair, and healthy places to be. Being a gifted "people person" with a high "PQ" creates trust. Whether you're leading down, or up, or out—your maturity and ease with others is where your impact begins. Don't wait. Resource yourself Now. We look forward to meeting you.
BUNDLE RATE OF $960.00
Package Price $960