Get Started
This course is currently closed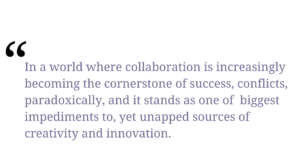 How do we transform this friction into a launching pad for new ideas and
breakthroughs?
Welcome!  We trust that this practical primer that will take you shape the way you perceive and
engage with conflict, encouraging you to not just seek the resolution of tension, but also harness
its energy for collective growth.
Armed with key distinctions from Ten Directions, you will learn to distinguish positions from
interests, differentiate perceived conflicts from actual ones, and orient yourself with more skill,
integrity, and mindfulness.
This guide also provides an actionable worksheet to help you anticipate, unravel, and more
effectively tease apart and compare the needs and interests of each stakeholder.
So, whether you're thrilled, apprehensive, or curious about the transformative potential of conflict,
step in, and let's reshape conflict into a force of alignment, inclusivity, and innovation.
The road to becoming a more effective facilitative leader begins here.