Creating energy,
connection, and
engagement.

Over two hours of video instruction, demonstrations, a 15 page digest full of techniques on how to create connections, checklists to prepare for online sessions, tools and resources.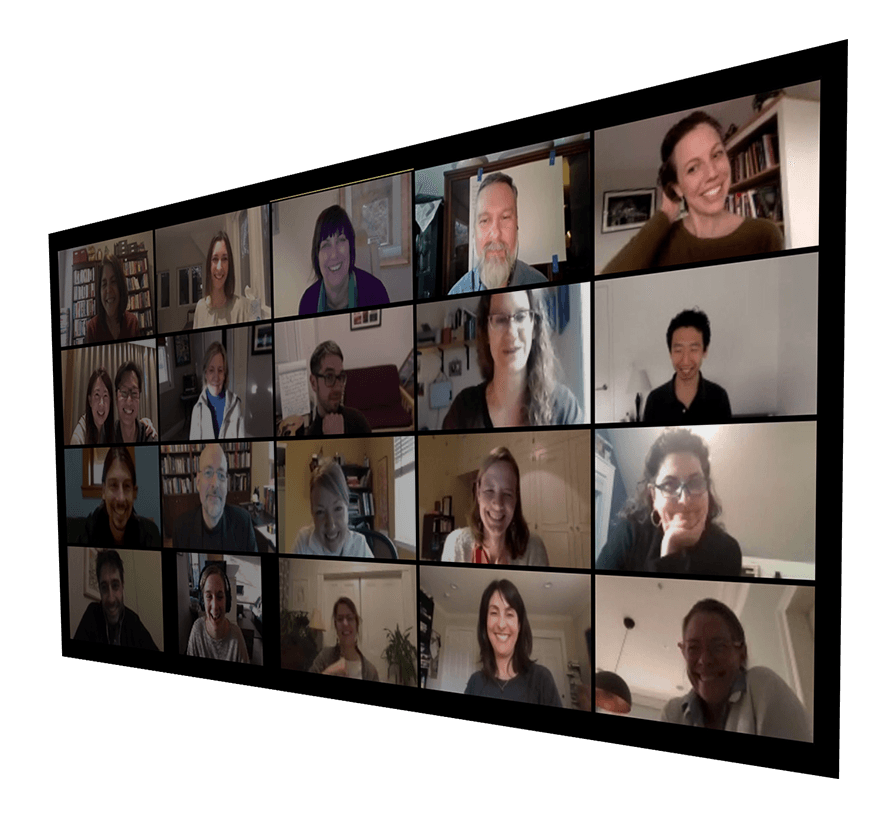 Create enlivening meetings and gatherings.
It is absolutely possible to lean into the new reality of virtual work-scapes and create fun, enlivening meetings and gatherings. Heck, it's even possible to create experiences virtually that people like better than the old in-person ones!
Enjoy this dynamic self-directed course that will:
"Beautifully facilitated with authenticity, humor, vulnerability, transparency and masterful sharing of the content and the leadership!"
Ten Directions has a unique approach that offers both philosophy as well as tactics that bring a fresh approach to facilitation. If you are looking to add creativity and expand options for your meetings - in-person or virtual - you should learn with Rebecca and her team.
"I am so pleasantly surprised by the unexpected resources you provided. You really modelled for me excellence and care to the highest levels. Talking about facilitation, this is walking the talk. I am immensely grateful for so much learning and looking forward to explore my own ways of emulating you."
"Your team was extremely engaging. The follow up email with goodies - notes on all the practices, the powerpoint, the facilitation checklist, and YOUR learnings from past sessions is incredible."
Our team of sincere, well-seasoned, wise, and appropriately-rascally facilitators share what we've learned since turning lemons into lemonade with the inversion of all of our live in-person facilitation work to live online experiences.

We share with you how we optimize meetings, gatherings, workshops and events online in three main categories:
Make it easy for everyone
Make it solid, safe, and stress-free
What we cover in this course:
We demonstrate experientially some of our favorite ways to warm up the space, get people connected quickly, and amplify trust and safety throughout.

We give you the best of what we've captured so far, including our best practices for:
Figuring out if you should even hold the meeting online in the first place (srsly!) | Designing your meeting / event | Clarifying purpose, roles, outcomes, experiences | Getting your people fully on board before the meeting even begins | Dealing with confusion, chaos, and distraction | Turning up the volume on levity, warmth and connection
Uplevel your online facilitation now.
Once you've completed your purchase, you'll receive an email from us with the link to your self-directed course and all your course materials.
"It was really helpful to see how you all modeled fluidity, adaptiveness and responsiveness. I learned so much simply from being a part of the training."
This session was a great experience in exploring on-line facilitation. With so many of us working remotely, collaborating in a virtual space can sometimes be tricky. As the team from Ten Directions showed us, that doesn't have to be the case. With careful planning, on-line facilitation can be an enjoyable process, engaging participants and facilitators on multiple levels. While this was a short session at 90 minutes, it was jam-packed with interesting techniques, effectively modelled by the facilitators. The session was an excellent learning opportunity and I look forward to more offerings from Ten Directions.
"Your openness and commitment to our learning enhanced everything we did. I felt completely held by you all throughout the session."
"The flow of the session was excellent. It all hung together really well. I enjoyed how you worked together in a team and shared the facilitation. It was fun to hear from each of you throughout the call. "
"Thank you for pivoting and forging ahead with this. It provided much needed sanity as we head into the rapids. I was particularly struck by - and greatly enjoyed - the diversity that existed within the facilitation team (tone, energy, personality, style). Each member brought something unique!"
"The facilitators from Ten Direction are awesome - caring and proficient. They were modeling what they taught us which it's very important to me."
"I got just as much out of your facilitation as I did from the class material. The way that you handled the virtual environment was great and I definitely took many things away I will be using going forward. Thank you!"
"Humanness/warmth, helpful content and good pacing, and the resource package is *amazing*"
"Excellent preparation, and modelling of not only the features of great virtual facilitation but the felt sense of camaraderie. Thank you!"
"You covered an amazing amount of ground in a whirlwind 90 minutes, embodied and demonstrated what you were teaching, and created a convivial, comfortable, and energized experience."
Please share this invitation!